Breathing new life into a beloved building
Madrona Lodge is one of the most popular buildings at Camp Indianola. It works great for adult groups, who love the semi-private rooms and the common spaces. However, even though the building has served us very well for the past 40 years, it is no longer up to guest groups' standards.
Thus, we are going to be renovating it, getting it refreshed and ready to go for another 40 years.  Along the way, we'll be fixing issues that have come up, and improving it so that it is a better space than it ever has been before! A new, renovated building will be very popular with the many adult retreat groups who rent our site, as well as being the perfect setting for our own adult retreats that we are starting.
Learn more about this project:
of the way to our fundraising goal
Key to our vision
Camp Indianola, moving forward, is all about expanding. Children and youth have loved Camp Indianola for decades, but many adults have not gotten the chance to experience the transformation that comes from being at camp. With our expansion to include programming for adults as well, Madrona serves a key purpose. It is the best suited cabin for adults, and especially with some love and work, will be an incredible space for adults to experience the transformation and growth that can come from being at Camp Indianola.
It's all about the relationships
Retreats are all about relationships—conversations, study, shared activities, eating together. We are building a space that encourages those types of interactions. That's why we're putting so much effort into the common spaces and layout of the renewed Madrona. Upstairs are comfortable chairs and sofas in an expanded common room, allowing for relaxed dialogues, as well as a deck that is large enough for whole groups to use. And then when groups need to focus up, they can use the downstairs meeting space, which will be flexible enough to accommodate whatever form of together-ness the group is looking for.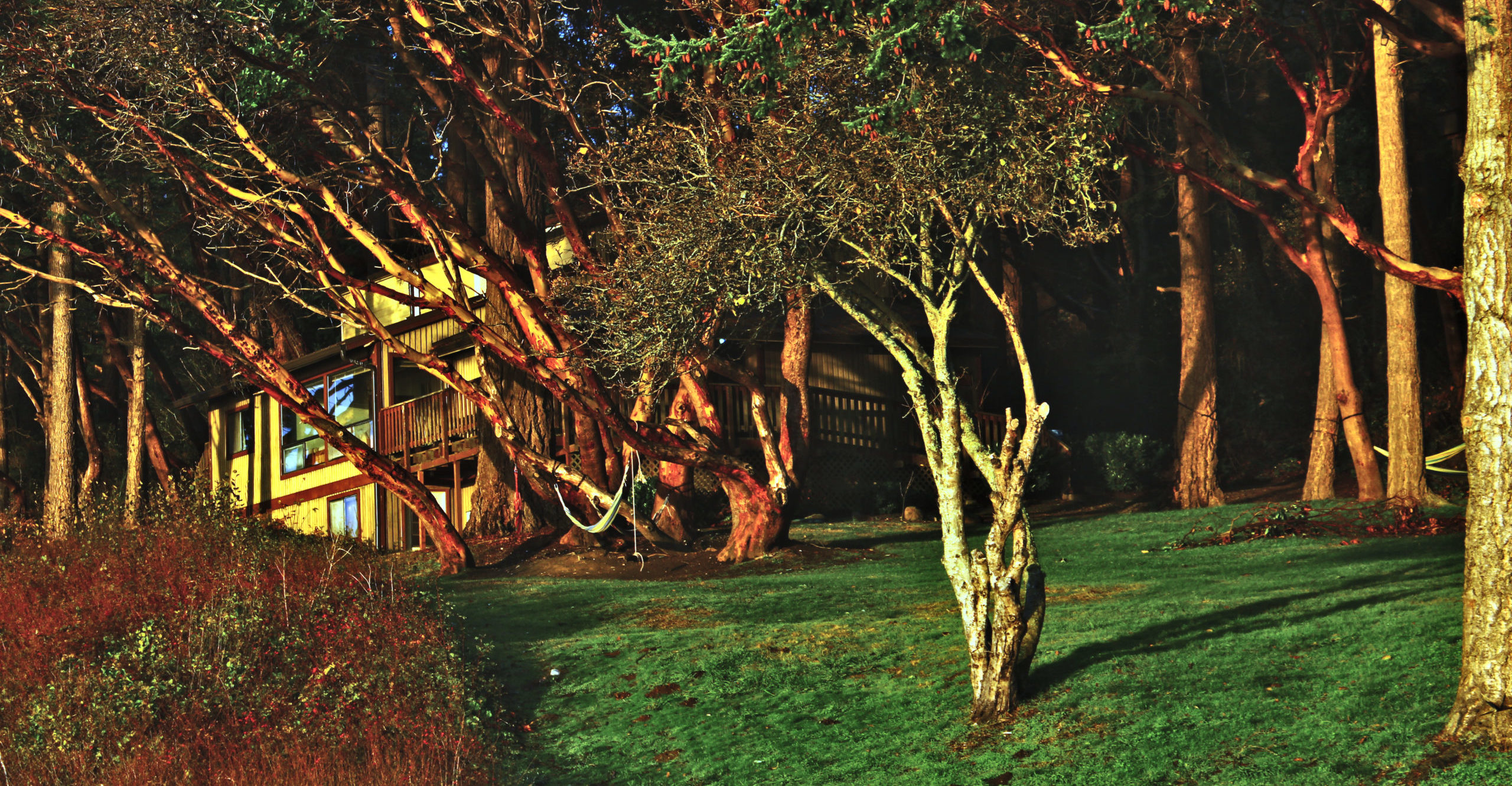 Expanded common room with floor to ceiling windows
By enlarging the middle floor common room, we will make more room for groups to use the space for their conversations and activities. The space is flexible, so groups can split into small groups, have one-on-one conversations, or meet as a whole group. To top it off, we'll continue the floor to ceiling windows through the whole common room, giving us a gorgeous panoramic view of the Puget Sound, Mount Rainier, and Seattle. The space is designed to foster growth through relationship and conversation.
Large wrap-around deck overlooking the Puget Sound
Instead of having a tiny deck tucked away that never gets used, we will make the deck a major feature of the building. Together with the common room, the deck provides opportunities for conversations while maximizing the amazing views from Madrona. This provides an additional area for individuals to enjoy, whether that is with their morning cup of coffee while watching the sunrise, or with a small discussion group on a nice day.
Expanded, lightened, and clean downstairs meeting area
Rather than a dank, stuffy space, the new downstairs meeting area will be light, open, and flexible. More of a "let's get down to business" space than the more relational upstairs common room, large tables and chairs allow for groups to configure the space as they want it. By removing the seldom-used corner bedroom and adding another window, we drastically increase the natural light in the room, making it a much more energizing place to work. By changing to stained concrete flooring, we can eliminate the perpetual water damage to the floor and the mildew that goes along with it.
A more connected, relational layout
Whereas Madrona currently feels kind of like a bundle of individual rooms, the design of the new Madrona will encourage community and interaction. The life of the building centers on the common areas: Instead of heading to your room, as you do now, upon entering the new Madrona, you might naturally flow into the large common area, where you mingle with others from your group. From there, you can flow outside to enjoy the beautiful day from the deck. Even the more business-oriented downstairs area encourages flexible configurations to meet the needs of the whole group.
Individual bathrooms and showers
Adults crave privacy when doing their business, be that going to the bathroom, getting ready in the morning, or showering. We thus are converting the two communal, shared bathrooms into six individual bathrooms. A mixture of showers and bathrooms means that no one has to wait forever to use the toilet just because someone else is in the shower. We also have added an additional shower here, meaning that with the new showers downstairs, we will have greatly increased the availability of showers for our guests, so you will no longer have to make sure to shower at odd times when they will be free. Additionally, we will now have a fully ADA-accessible bathroom and shower to assist those with limited mobility.
New mattresses, provided linens, refreshed bedrooms
Bare mattresses work fine for kids, but adults need more comfortable bedding to wake up rejuvenated and ready to go. We will not only be getting more comfortable mattresses, but we will also be providing linens, towels, blankets, and pillows so that you don't need to bring a sleeping bag. Plus the bedrooms will each be getting a makeover, making each a more welcoming and comfortable space to be staying.
Renewed kitchen
Our redesigned kitchen will be much more appropriate to the space. We'll have all new cabinets and countertops that will look nice and stay cleaner. A more compact footprint will open up the whole space and allow for more flexibility with the adjoining meeting space. And a walk-in pantry will provide food storage and organization for groups doing their own cooking.
Soundproofed flooring
New luxury vinyl plank flooring will make the building look so much better than the current battered laminate while also holding up to the heavy traffic in the building. Even better, the flooring has built-in soundproofing to help reduce the noise of foot traffic from the floor above you.
Refreshed decor
The decor of the new building encourages relaxation and connection, both with each other and with the surrounding natural environment. The calming color palette is derived from the woods and the Puget Sound, and gives the building a clean, relaxing feel. Canvas galleries featuring photographs of the camp's scenery highlight the natural beauty of the site.
… and more:
A new heating system
Rebuilt side and emergency stairs
Refreshed furniture
A/V equipment for the downstairs meeting space
Finish the unfinished room in the basement
We need your help!
 We won't be able to do this without you! If you are excited about this project as well, please consider donating either your money or your time to help out. That's how we will be able to get this nice of space—by all working together to make ourselves a new, much nicer place to stay!