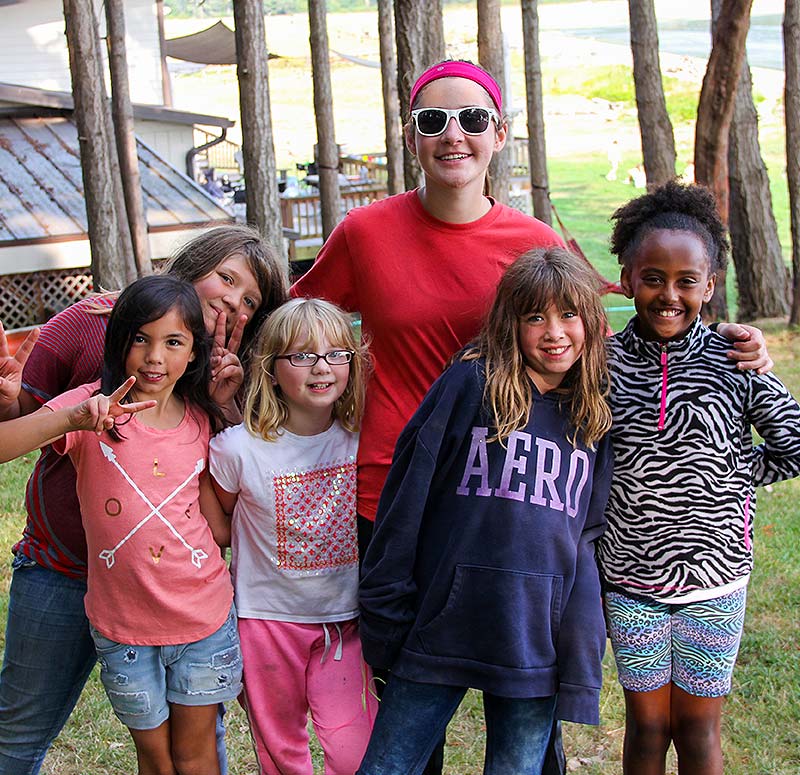 Welcome to Camp Indianola! We are excited that you will be a part of our community this summer. Get ready for an exciting time of praising God, swimming in the water, playing games, making new friends, and singing great songs. We have been praying for you and can't wait to welcome you to the best week of your summer.
Our Program Goals Are:
Provide experiences of community built around Christian values
Know the love and acceptance of God as revealed in Jesus through the Holy Spirit, the scripture, and the history of God's people
Heighten an appreciation of Creation and reinforce a sense of human responsibility as stewards of that Creation
Know and act upon the meaning of God's call to discipleship
Give our campers new life skills to better themselves to who they were created to be
Preparing your Child For Camp
Success at Camp and how to avoid Homesickness:
We want to help you as a parent to set your child up for success at camp. We want to inform you about some tips and techniques to help your child prepare for a week away from their normal routine. Please visit this link for an excellent article published by the American Camp Association.
For additional information on preparing your child for camp, we recommend reading this article published by HuffPost.
Homesickness is a common feeling that many children experience when they go away to summer camp. As a parent, there are several things you can do to help combat homesickness and ensure that your child has a positive experience. First, make sure that your child is well prepared for the experience by discussing what to expect at camp and the fun activities they will participate in. Encourage your child to make new friends and try new things while at camp. It can also be helpful to send care packages or letters to your child while they are away, as this can provide a comforting reminder of home. Additionally, stay in touch with Camp Indianola and ask for updates on their progress. Finally, be supportive and understanding of your child's feelings if they do experience homesickness, but also encourage them to persevere through it and have a great time at camp. By following these tips, you can help ensure that your child has a fun and memorable summer camp experience that they will cherish for years to come.
Summer camp is a great way for kids to have fun while learning and growing. It offers a range of benefits that can help kids develop social and emotional skills while providing an enjoyable and memorable experience. Summer camp provides kids with the opportunity to make new friends and build social skills, which can help them build self-confidence and develop a sense of independence. The wide range of activities on offer, including sports, music, arts, and outdoor adventures, can help kids discover and develop their talents and interests. Summer camps also provide a break from technology, allowing kids to explore and connect with nature, learn new skills, and build character. In addition, summer camp offers a safe and supervised environment where kids can learn and have fun with their peers. If you're looking for a summer camp that provides all of these benefits and more, Camp Indianola would be perfect. With its beautiful natural setting, experienced staff, and wide range of activities, Camp Indianola is a fantastic choice for kids looking for a fun and fulfilling summer camp experience.
Before camp starts, you will receive an email with more extensive information about the camp's starting time, packing list, and any additional information you need to know. You are always welcome to email or call for more information that you need!
At check-in, our Health Care Volunteer will review your health forms and check in any medications (in original container/packaging please), and we'll collect your Camp Store money. On the last day of camp, remember to stop by the check-out table to sign out and to collect your remaining Camp Store money. Parents, please bring your photo ID with you for pick-up. Contact us if you are unable to arrive at these times.
If you are a High School camper driving yourself to camp, you will be asked to turn in your car keys at the beginning of camp, and they will be returned to you at the end of camp.
For your safety, Camp Indianola intends to follow current County Health Codes regarding Covid precautions.
If you have any questions, we would love to help and chat: 
Overnight Camp Packing List
Sleeping bag and pillow
Long pants and shorts
Long and short sleeved shirts
Socks and underwear
Pajamas
Closed-toed shoes
Flashlight
Sunscreen & bug spray
Disposable camera
Jacket or sweatshirt
Swimsuit & beach towel
Towel & washcloth
Toiletries (toothbrush, toothpaste, etc)
Bible
Money for the Camp Store
Old shoes or water sandals for the beach (not flip-flops)
Please remember to mark all personal items with your name!
Please leave all electronics (digital cameras, cell phones, MP3 players, iPods, tablets, etc) at home! Disposable cameras are fine. Photos from the week will be uploaded to our Facebook page for tagging and downloading. Our electronics policy is in place to ensure your safety and privacy, and that of other campers. Personal sports equipment must be approved by the camp staff. NO fireworks, alcohol, tobacco, drugs, knives, weapons, or pets allowed.
How To Contact Overnight Campers
Campers are not allowed to make or receive non-emergency phone calls during the camp session. In case of an emergency, please call our office at (360) 207-1519. You can email your camper at [email protected]; however, our system doesn't allow for a response from campers. If your camper wants to send a letter home over the week, please send with them an addressed and pre-stamped envelope. Please put the camper name and camp session in the subject line. Emails should be sent no later than the last night of camp, and letters and postcards should be sent no later than Tuesday to ensure delivery.
Send camper mail to:
Camper Name
Camp Session
Camp Indianola
PO Box 1150
Indianola, WA 98342
Payment
Payment must be received in full BEFORE your camper may be admitted to camp. If your church or someone else is assisting with payment, please ensure that it is taken care of in advance or be prepared to pay your balance and get reimbursed.
Camp Store
Snacks are limited to one drink and one candy item per day and cost $1 each. A variety of Camp Indianola souvenir items will be available at each camp session as well. We'll collect your Camp Store money at check-in, so you won't have to keep track of it. Overnight Campers will receive one camp shirt.
Photos
At the conclusion of camp, photos will be uploaded to a camp-specific, private album. Parents will receive a link via email to be able to access this album.